ROUTE MAP TIERRA FRÍA
GUATEMALA CITY – ANTIGUA GUATEMALA – PANAJACHEL, SOLOLÁ
GUATEMALA CITY – LAKE ATITLAN
Tour begins starting from the city of Guatemala by the InterAmerican highway. On the way you will find the famous town of San Lucas Sacatepequez, where you can take a moment and stop to enjoy the beautiful view offered by the gazebo. Few kilometers later arrive at the Antigua Guatemala,colonial city, where you can learn more about the history of the country and visit famous tourist sites such as the Arch Street, the ruins of the cathedral, the Cerro de la Cruz, and Central Park .
Following the trip you get to Tecpan, in the town of Chimaltenango. Along the road you will find variety of restaurants where you can taste Guatemalan dishes you can not miss.
If you have time to visit the center of Tecpan we recommend visiting the ruins of Iximché, located just minutes from the road. Iximché was the capital of the Kaqchikel Maya kingdom in the late classical period. The architecture has pyramidal temples, palaces and two golf Mesoamerican ballgame.
San Lucas Sacatepequez

Antigua Guatemala

La Calle del Arco

The ruins of the Cathedral

El Cerro de la Cruz

Central Park

Tecpan

Ruins Iximché

Los Encuentros

Chichicastenango

Panajachel

volcanoes: Atitlan, Toliman and San Pedro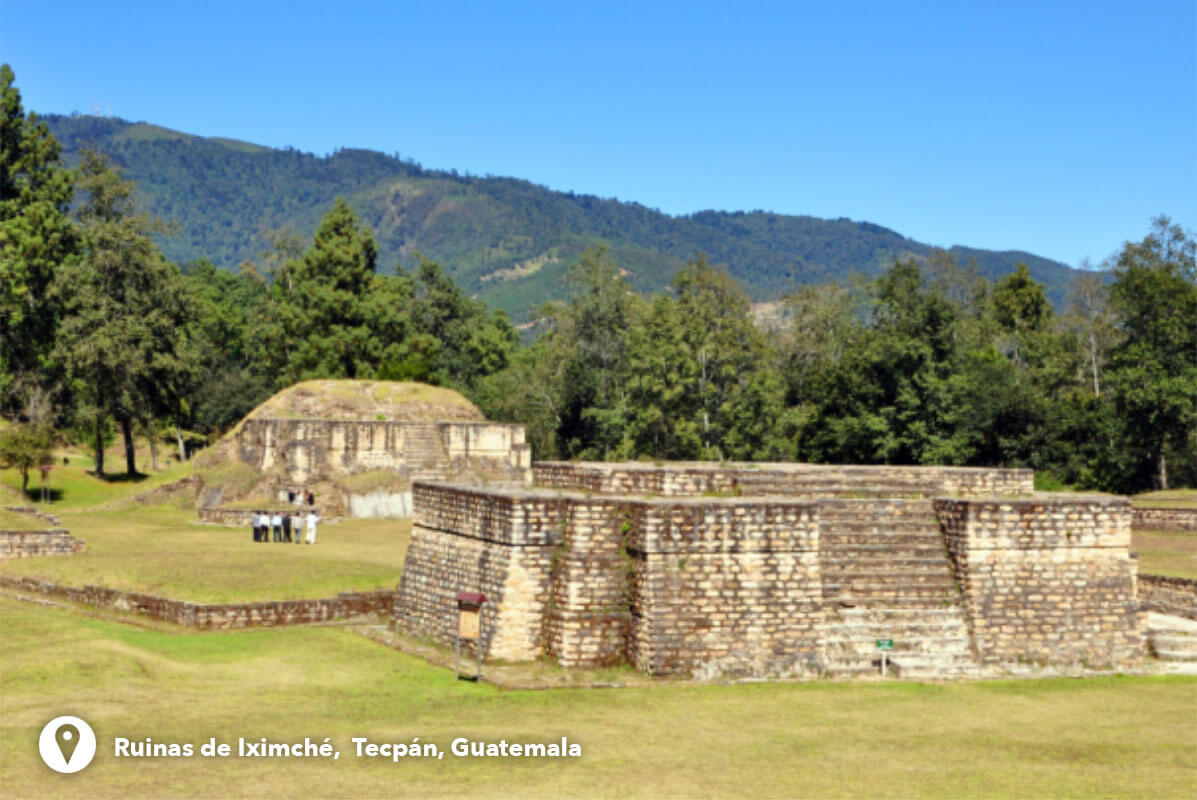 Our tour continues to Los Encuentros, from where you can decide whether to head to Chichicastenango in the department of Quiché, famous for its colorful market day Sunday, or go directly to our destination, in the department of Solola. Continuing along the Interamerican Highway find a viewpoint where locals offer variety of crafts.
Few kilometers ahead, towards the center of the department of Solola, is the town of Panajachel, located on the shores of Lake Atitlan. Panajachel, offers visitors variety of cafés and restaurants and various accommodation to suit any budget.
Lake Atitlan is surrounded by three volcanoes: Atitlan, Toliman and San Pedro, which you can hike if you are fan of mountaineering.
Around Lake Atitlan are several towns that offer visitors a warm and quaint atmosphere. Each has its own identity and costumes. Among them are Panajachel, Santiago Atitlan and Santa Catarina Palopo, among others. Its landscapes, its colorful textiles, handicrafts and traditions variety, have made this region one of the main tourist destinations.