MAP ROUTE OF THE ECOLOGICAL LUNG
GUATEMALA CITY A SEMUC CHAMPEY COBAN – ALTA VERACRUZ
GUATEMALA CITY A SEMUC CHAMPEY COBAN, ALTA VERACRUZ
Begin the journey toward Semuc Champey taking the road Jacobo Arbenz Guzman which take us to the El Progreso department. On this route you will see one of the largest green lungs of Guatemala, La Sierra de las Minas.
Our journey take us to the department of Alta Verapaz and its head, Coban. Alta Verapaz are 64 archaeological sites of the Mayan period, and buildings of the colonial era. Verapaz is an allusive name to the "true peace" time when these territories are incorporated into the Spanish colony at the time of the conquest, through the mediation of Fray Bartolome de las Casas.
Progress

The Sierra de las Minas

Coban

Laguna Lachuá

Lanquín

Cuevas de Candelaria

Cahabón River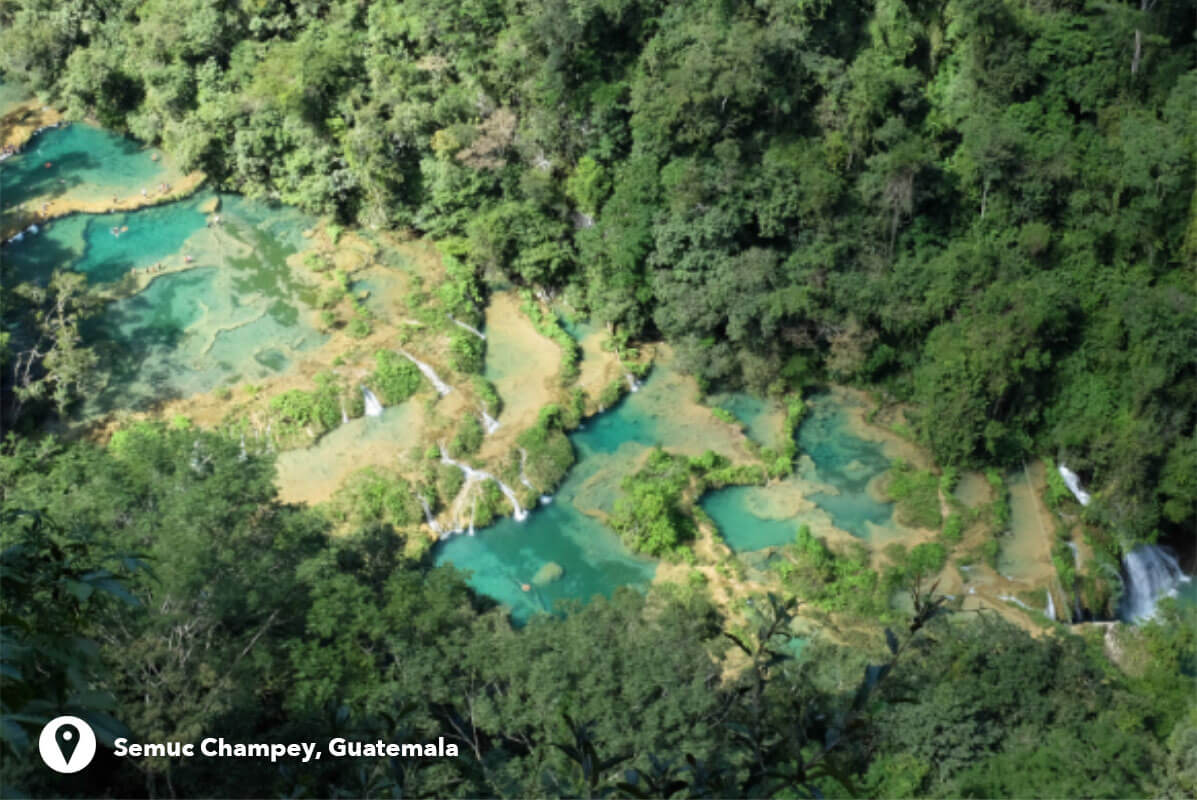 We recommend visiting Laguna Lachuá. To get there you must go toward the Chisec municipality and once there make a walking tour to reach the lagoon. You can spend some time watching the breathtaking scenery of cloud forests on one of the gazebos.
Once you have reached Coban we recommend visiting the city Lanquín, where are the famous caves of Candelaria, which have undercurrents, where tours are offered in tubing.
A 12 kilometers from Lanquín you can visit Semuc Champey, whose name means "where the river is hiding in the mountains". Semuc Champey offers a spectacular view of crystal clear warm waters and turquoise. The place offers several paths surrounded by nature, as well as a lookout to observe from above whole place.
Nearby is the Cahabón River, where if you like extreme adventures, you can do Rafting, accompanied by expert guides for your safety.
We recommend staying in one of several hotels of the place, in them you can enjoy incredible views and enjoy Guatemalan dishes to finish completing your experience in Guatemala.